Nordic Paper and the climate
Nordic Paper turns renewable forest raw materials into paper products for numerous application areas. By using products from Nordic Paper, consumers have an opportunity to reduce their climate footprint by, for example, replacing packaging solutions made from fossil-based plastics.
Although Nordic Paper's products can replace fossil-based plastics, the Company's operations give rise to GHG emissions of fossil origin – both directly in its own production processes, and indirectly from pur- chased services and input goods. Nordic Paper is working actively to reduce this impact to further improve the climate performance of the Company's products.
The Company's climate impact arises in various parts of the value chain. The total GHG emissions for the year were around 114,000 metric tonnes of CO2e, of which 35,000 metric tonnes were from the Company's own production processes (Scope 1), 33,000 tonnes from purchased energy (Scope 2) and 46,000 tonnes from purchased goods and services other than energy (Scope 3).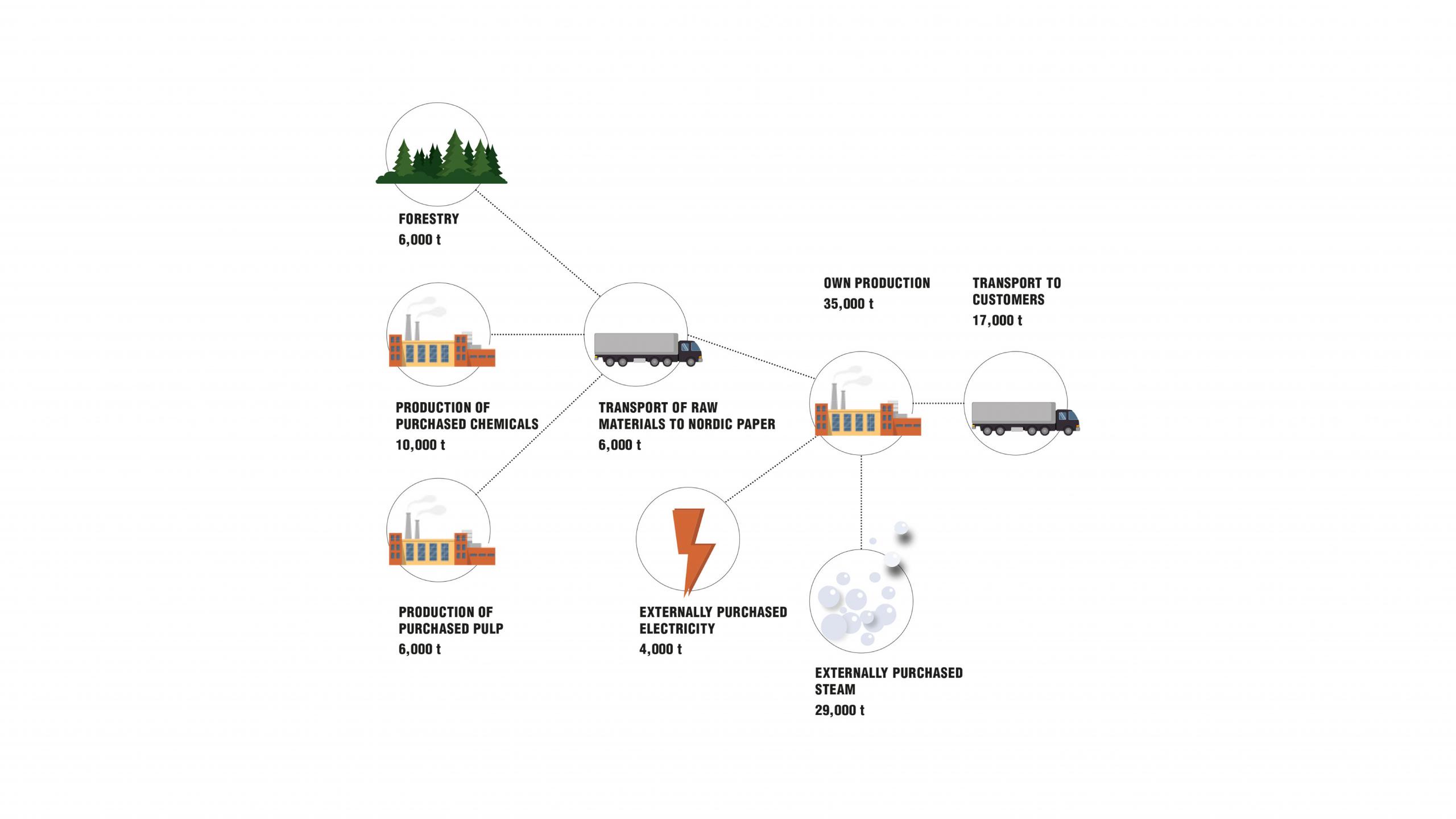 A large portion of the Company's energy needs are met today by bioenergy. At the largest plant in Bäckhammar, fossil fuels are mainly used today in non-typical operational situations, such as a restart after a long shutdown. Fossil fuel use in continuous oper- ation at the plant is limited. Overall, the percentage of biofuel used has increased year-on-year in Bäckhammer and reached 98.7 percent in 2021.
Most of the Company's restructuring of the production facility in Säffle took place in the fourth quarter of 2021 and involved ending sulphite pulp production at the mill and replacing it with external market pulp. The past sulphite pulp production was largely bioenergy based, but required some fossil fuels in the form of around 2,000 metric tons of fuel oil a year. This fuel oil consumption is ceasing entirely, which will enable the plant's GHG emissions from operations and from purchased energy (Scope 1 and 2) to be cut in half. The impact on the whole of Nordic Paper's fossil GHG emissions in Scope 1 and 2 is a reduction of around 8 percent. As the external market pulp suppliers have significantly more energy-efficient plants than the now closed pulp mill in Säffle, the net effect on Scope 1–3 is positive.
Just under one third of GHG emissions from Nordic paper's value chain arises at the waste incineration plant Åmotfors Energi, which supplies Nordic Paper's production plant in Åmotfors with steam. The fossil GHG emissions arise at the plant when fossil-based plastic in waste is incinerated. These emissions are included in Nordic Paper's Scope 2 emissions.
Since 2019 the Company has analysed the impact in Scope 3, i.e. GHG emissions from consumption of purchased goods and services. Around half of all emissions within Scope 3 are transport-related, while other emissions are related to input goods such as chemicals and paper pulp.
In addition to the Company's GHG emissions with fossil origins, the Company handles large volumes of biogenic carbon, i.e. carbon in the biomass the Company's brings in with the wood. Around half of the carbon that comes in through the wood leaves in the form of the Company's products and the remainder goes back into the atmos- phere as biogenic carbon dioxide emissions.
After use, Nordic Paper's products are recyclable in the packaging paper recycling system. The paper packaging recycling rate within the EU was 82.3 percent in 2019, compared with 64.8 percent for all types of packaging.
Sustainability report 2021
The sustainability report is a part of the Nordic Paper Annual Report and Sustainability Report 2021. The sustainability report was inspired by Global Reporting Initiative (GRI) Standards and a GRI index is found in a separate document below.
Annual report and sustainability report 2021