iamKraft® kraft paper
iamKraft® - one of the strongest kraft paper in the world. For 150 years, our paper has held the flag high and contributed to both modern solutions, applications and sustainable products highly needed in our urban society. Our iamKraft® manufactures everything from sacks and carrier bags to furnitures and construction laminate. Right now, is what iam means in latin. We are proud of our heritage but even prouder that iamKraft® still is what it is today, right now! Should anyone prefer to make a parallel to the English wording "I am kraft" instead of the latin, that's just fine, since that also describes some of our flag ships main characteristics – strength, flexibility and ease of use!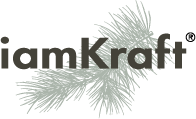 In our production, we only use raw materials of the best quality taken from the northern forests, which with their cold winters and cool summers make the trees grow slowly. This means that the raw material for our kraft paper has extra strong fibers, ideal for creating a strong paper of high quality. The high quality is also a result of ongoing investments at our facilities located in Bäckhammar and Åmotfors.
The raw material comes directly from nearby forests, so-called virgin fiber. In our pulp production, we use exclusively certified raw material from wood and wood chips within a natural radius, which is beneficial for the environment in several ways. It also means that we have control over the entire production cycle and can minimize environmental impact. The result is a kraft paper that suits a variety of industrial applications, such as many different packaging of food and building materials.
Our kraft paper is called iamKraft®. For years we were searching for the perfect brand to our natural and strong kraft paper. We searched the world for inspiration, for something that reflects the power of our products. In the end, we landed where we started – in Värmland, Sweden. Because here in Värmland, the raw materials and the knowledge that we need for our kraft paper is to find. These two components enable us to develop one of the world's strongest kraft paper.
Paper selector iamKraft®
Are you not sure of the papers end use ? Try our Paper selector where you fill in different properties such as surface smoothness and type of operation and the selector will guide you.