iamKraft® sack and MF paper
Our unbleached bag manufacturing kraft paper is one of the strongest in the world. Thanks to its properties, a low gram weight paper can be used to create a really strong and durable sack.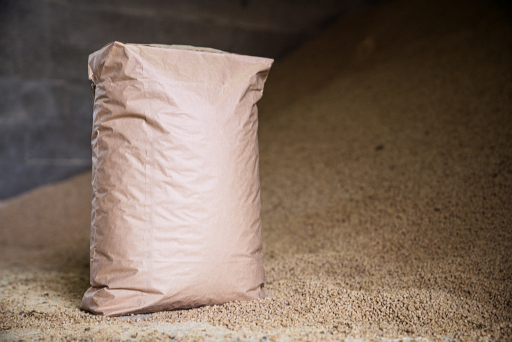 With our flexible production process, we can also deliver iamKraft® sack and MF paper in a variety of combinations based on stretchability, strength and how much air to let through.
Our paper's driveability and compliance in the conversion lines, has made it a favorite of users around the world. Our customers usually have a long experience with our product and know that it is a reliable paper of very high quality. iamKraft® sack and MF are available in surface weights from 60 to 130 g/m². It is used, in addition to sack paper, in laminate and composite products as well as bags and packaging. Our composting certified iamKraft® Bio is an MF kraft paper specially developed for handling food waste, both at home and in commercial kitchens.
All our kraft paper products are certified to be used in conjunction with food in temperatures up to 90°C. Our iamKraft® MG kraft paper is also available with the special property "OvenSafe", a heatproof paper certified for use in temperatures up to 220°C.
Nordic Paper is certified for both FSC® (FSC-C102767) and PEFC.
Our range of Sack paper

| | |
| --- | --- |
| Standard | iamKraft® Natura |
| Semi extensible light | iamKraft® SemiLite |
| Semi extensible | iamKraft® Semira |
| Extensible | iamKraft® Extera |
| E-commerce | iamKraft® Epack |
| Certified compostable | iamKraft® Bio |
iamKraft® MG paper
Our unbleached MG Kraft paper offers outstanding printability as well as unmatched durability – among the strongest you'll find anywhere. 
Paper selector iamKraft®
Are you not sure of the papers end use ? Try our Paper selector where you fill in different properties such as surface smoothness and type of operation and the selector will guide you.
iamKraft® speciality paper
Our Kraft paper is the material of choice for a surprising range of applications, providing both strength and flexibility.