iamKraft® MG paper
Our unbleached MG kraft paper is ideal for printing and is also one of the strongest paper there is on the market.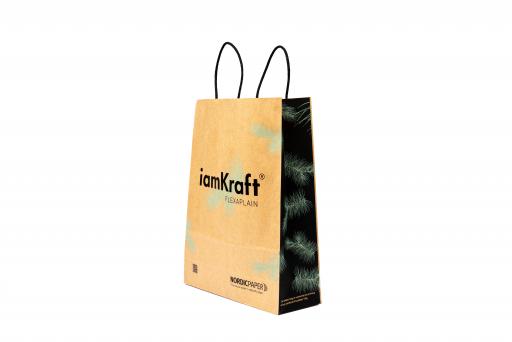 Many of our customers around the world have extensive experience with our iamKraft® MG and know that it is a reliable paper of very high quality. iamKraft® MG are available in surface weights from 35 to 120 g/m² and with smooth or ribbed pattern. It can be used in laminate and composite products, bags and packaging, for example mattresses or as masking paper.
All our kraft paper products are certified to be used in conjunction with food in temperatures up to 90°C. Our iamKraft® MG kraft paper is also available with the special property "OvenSafe", a heatproof paper certified for use in temperatures up to 220°C.
We are also is certified for both FSC® (FSC-C102767) and PEFC.
Our range of MG paper

| | |
| --- | --- |
| Wrapping & bags, plain  | iamKraft® FlexaPlain |
| Wrapping & bags, ribbed | iamKraft® FlexaRibb |
| Coating | iamKraft® Coat |
| Lining | iamKraft® Line |
| Foaming | iamKraft® Foam |
| Masking | iamKraft® Masque |
Paper selector iamKraft®
Are you not sure of the papers end use ? Try our Paper selector where you fill in different properties such as surface smoothness and type of operation and the selector will guide you.
iamKraft® sack paper
The strength of our Sack paper allows you to reduce the amount of packaging required.
iamKraft® speciality paper
Our Kraft paper is the material of choice for a surprising range of applications, providing both strength and flexibility.